Search engine optimization (SEO) is a frequent conversation we have with fellow entrepreneurs, especially those with WordPress websites. What is SEO exactly? Simply put, search engine optimization is a set of strategies (both organic or paid) used to make your website rank highly on search engines (such as google) and ultimately help customers find you online. While you may seek out paid SEO methods, there are a number of organic DIY ways you can help improve your website's search rankings right now with these 5 SEO tips.
1. Blog frequently
If your website was designed with a blog page it's there for a reason…to blog! Blogging is a great way to keep your rankings up as search engines love websites that are active and posting new content regularly. You may wish to write about industry trends, thought leadership pieces, company news or tips to help your customers. What ever your niche, create a content schedule and stick to it – minimum 2-4 posts each month. Plus it's a great way to drive traffic to your website by sharing these blog articles on your social media feeds such as facebook, instagram or twitter!
2. Include Keywords
Sprinkling in hot keywords throughout your website's content and your regular blog posts is also key to improving your organic search rankings. Consider common search terms your potential customer may use. For example, White Canvas Design we may use service keywords such as graphic design, web design or logo design. We may also choose to focus on our geographic location by including Vancouver, BC throughout our content predicting that our users may be searching for a logo designer in the Vancouver area.
A word of caution – it's important not to over-do your keywords but find a proper balance that still allows your content to read clearly. If your website uses WordPress CMS, keep in mind your "heading 1s" (h1s) are going to be the top tier of information that is crawled first by search engines so it's important to include your top keywords in the title of your article and in any important headlines.
3. Add internal links
Linking to other blog posts or pages within your website internally is also a great way to improve your SEO. We did it just above in tip number 2 when referencing wordpress – which backlinked to our previous blog post for further reading on this topic. Finding other relevant sites or blogs to reference within your post is also a great strategy for increasing traffic.
4. Use Tags
In WordPress when you create a blog post there is a field on the right hand side titled "tags". This is an area to list relevant tags or keywords that are associated with your post. Simply separate these keywords by a comma and select "add". Category tags can be hidden or visible based on your settings.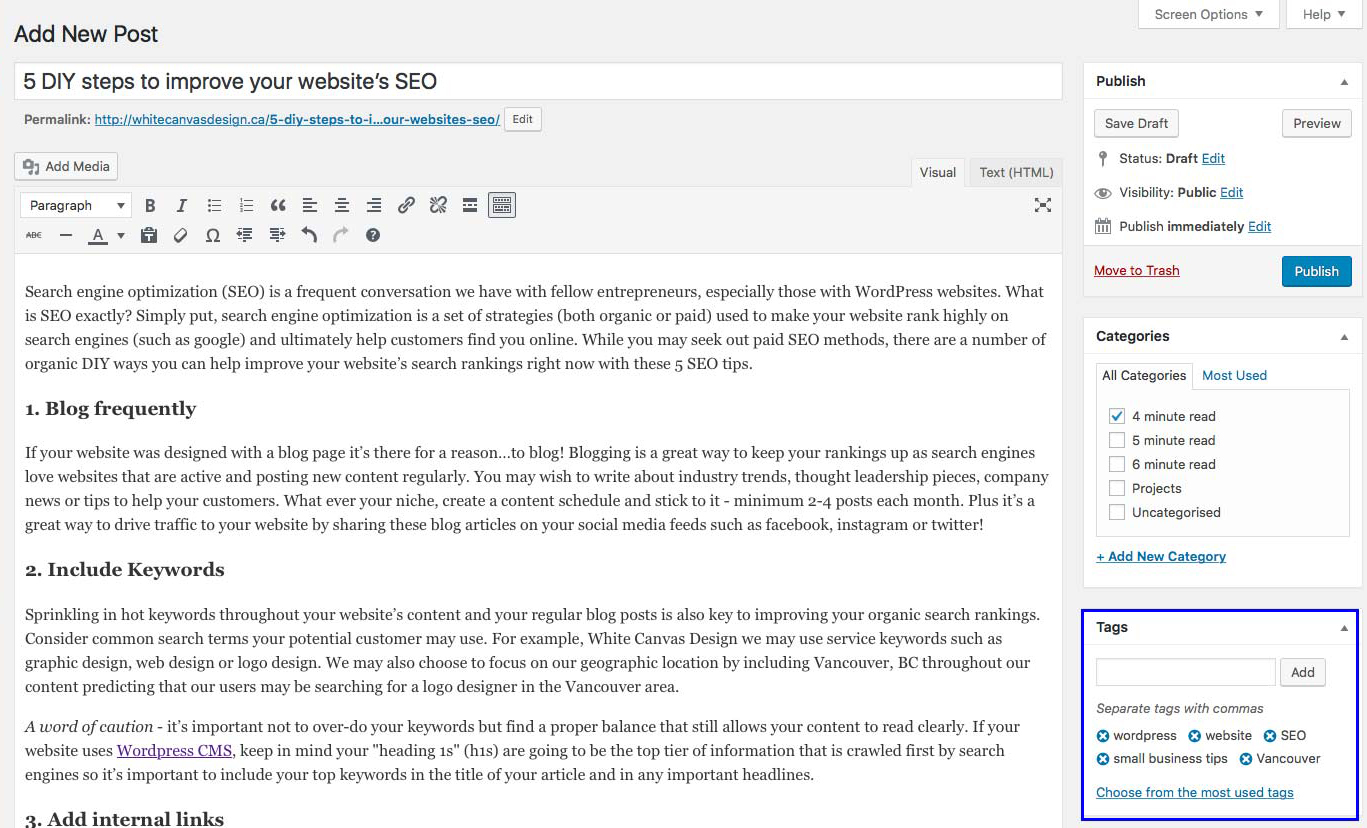 5. Keep image sizes low and name files properly
Keeping your site running at optimized speed with fast load time is also key to good SEO. Google looks for user-friendly websites that it can efficiently navigate information. Sizing your images and graphics at 100kb or less will help maintain speed and keep your users happy. Also make sure to name your file types with proper keywords as search engines are also crawling these file names. Use dashes to separate multiple keywords. For example, instead of titling our blog image "photo.jpg" we've used "5-diy-steps-improve-website-SEO.jpg" to enhance our organic search.